Giving shape to emptiness: The liminal forms of Yasuaki Onishi

When Osaka-based sculptor Yasuaki Onishi arrived in Flagstaff it was with some of his preferred materials in tow: Large plastic polyethylene sheets, black glue he discovered while in Korea at an artist residency and an idea of the dimensions of the Coconino Center for the Arts and what he planned to install therein. Having studied photographs and floor plans of the gallery for the past two years, on Monday Onishi began the 13-day process of translating his mental map of the space into tangible works of art. Three site-specific installations will make up the Center's newest exhibit, Hidden Landscapes: Yasuaki Onishi.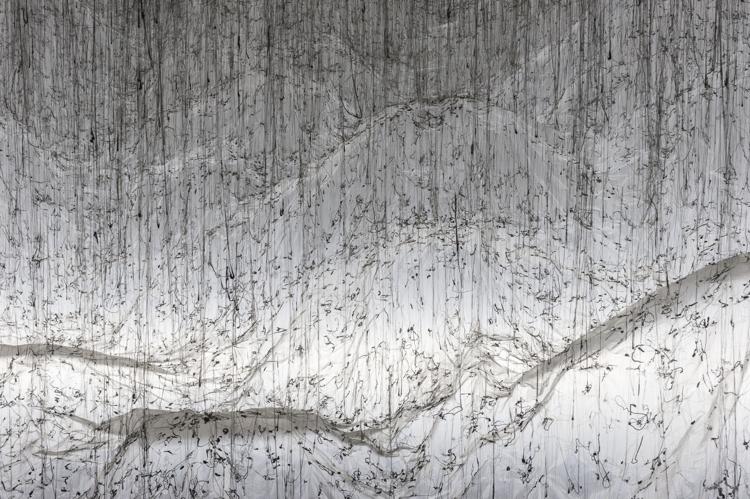 And yet, "tangible" is almost the wrong word for art that seeks to, as Onishi once told an interviewer, sculpt emptiness. Space, air, impermanence and gravity are each variables within the artist's pieces as he works to give form to spaces otherwise considered hollow or devoid of matter.
"I like to see space, an empty space and how I can fit it inside glue or a plastic sheet. It is kind of a molding, or casting
[of] the invisible," Onishi says.
Take for example reverse of volume CCA, a piece the sculptor is installing in the northern half of the gallery. Scaffolding made up of a mass of cardboard boxes is built high and draped with a plastic sheet. Within the building process, the boxes are removed, leaving an empty space capped only by the plastic. This mold, left behind by the removal of the scaffolding, has allowed the sheet to take on the form of a mountain range with space for the viewers to walk beneath it.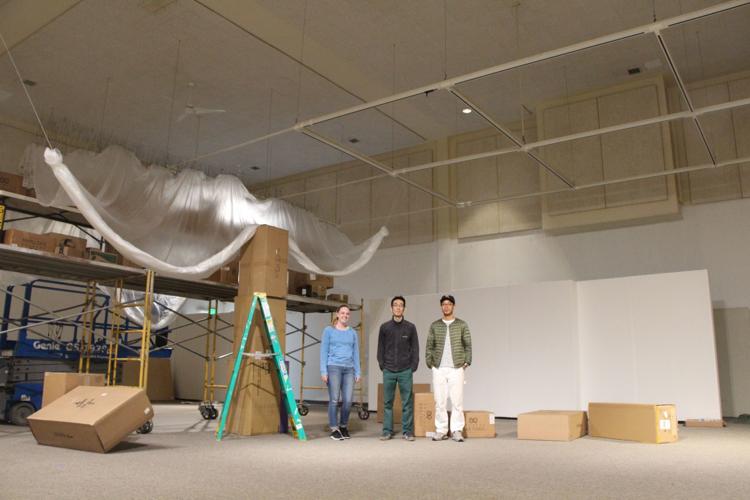 In essence, Onishi has given volume to air, through a reverse casting process. As such, Onishi's sculptures seemingly redefine negative and positive space; in his work these categories become more mutable than they are binary or fixed, often left simply to the interpretation of the viewer.
"It's interesting that some people see a mountain and others a cave in reverse volume," says curator of Hidden Landscapes,Emily Lawhead.
Lawhead, who was first introduced to Onishi's work through a 2014 project at Northern Arizona University, applied for an exhibition slot with the Flagstaff Arts Council on behalf of Onishi in 2016. She currently holds a master's degree in museum studies from the University of San Francisco where her thesis centered on the work of Onishi, specifically Hidden Landscapes.
It was through her efforts and support from the Japan-United States Friendship Commission, the Japan Foundation Los Angeles and Nomura and Arts Japan 2020 that Onishi's presence in Flagstaff was made a reality, as was Lawhead's role as collaborator and curator.
In fact, she sourced a number of the materials needed to build Onishi's installations at CCA–fishing line and cardboard boxes for example–while the sculptor and his assistant Kyohei Fujio (who has helped with past Onishi installations in Kazakhstan, Japan, China, Australia and two in the United States) brought the rest from Japan in several large suitcases.
The plastic sheets were one such transported item and will be a leitmotiv throughout the exhibit. Appearing in all three installations, the wispy, soft, expansive membrane of the plastic is susceptible to the slightest gust of air, suggesting two other elements essential to Onishi's art–gravity and movement.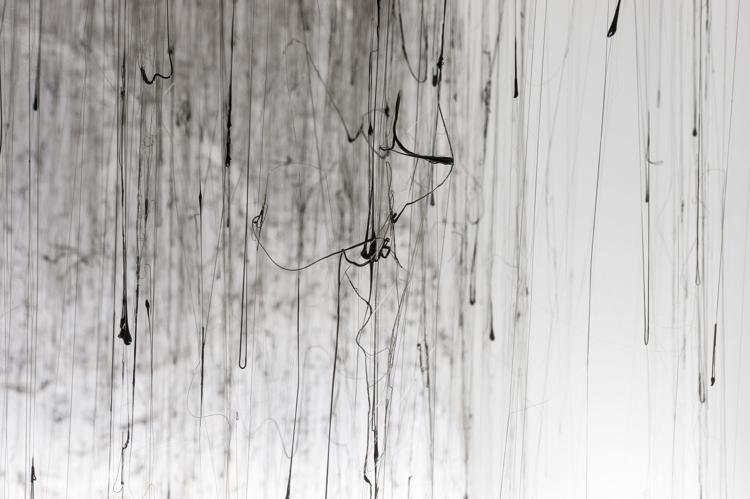 The sculptor smiles as he recounts his time as an undergraduate in the School of Art & Design at the University of Tsukuba where his studies in sculpture often required him to sculpt with wood and stone, two materials very distant from his current work.
"Those are heavy," he says. "I like the feeling much more of fragile, soft [materials]. The dripping glue, or the plastic where we can actually see the entire wall behind it, because it's not concrete. It is see-through, softer."
It was not until Onishi's time as a graduate student at the Kyoto City University of Arts (2002 to 2004) that the artist started to distance himself from more traditional mediums and used materials sometimes so translucent they teetered on invisible.
In the installation series restricted sight (2004), threads of light move up and down, lengthening and then coiling. The glow-in-the-dark thread vertically spans a tube-like shape suggesting to the viewer that the latter exists, but never explicitly confirming it. In other words, the shape of the dome is implied through a series of signals where the string creates a mere cast of the actual object. Hence, our sight is restricted and the volume implied.
"My interest was how to choose only the information of a shape," Onishi says.
Similarly, reverse of volume does not go beyond the suggestion or information of a mountain range. Onishi prefers this, as his installations often imitate but do not copy the natural landscape of the place in which they're installed.
"Onishi uses inorganic material to evoke a natural world that is rhythmic, alive and breathing," Lawhead writes in an email. The materials are straightforward and simple, the object open to interpretation.
The viewer may see the San Francisco Peaks, or may not, Onishi says.
"I really like to use the audience's imagination in connecting to a local mountain, because I don't make a specific mountain," Onishi says. "It's easy to connect memory to my artwork…people should interpret it freely."
As part of Hidden Landscapes, Onishi will also unveil a new piece, which also takes its inspiration from nature. Currently without a name, the work will take on a wave-like form, cresting from floor to ceiling.
The third piece, and one of Onishi's older works, will be set up to the right of the gallery door. His vertical volume is a series of 14 plastic cylinders of varying heights filled with air. Through a ventilator, each expands and collapses at different intervals. They are choreographed to fill space one moment but are eliminated of part of their matter the next, leaving behind shapes and outlines in their absence. It's again a kind of reverse casting where the wall behind them takes form. The cylinder expands, slowly collapses and the process repeats. Its fullness is finite, as is its hollowness. Using gravity and movement as themes, Onishi suggests to us that the inside of the cylinder is not, in fact, empty but has distinct volume in the form of air.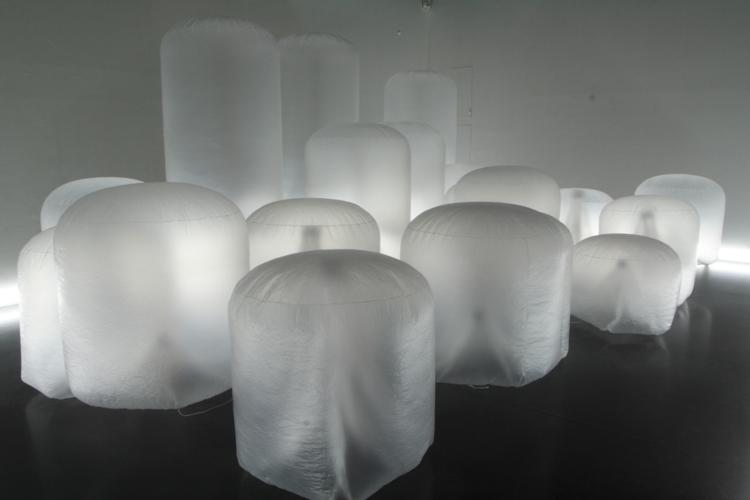 Onishi's site-specific works have been displayed worldwide, from Osaka, Nagoya, Paris, Portugal, Brussels, Germany and Sweden to Houston, Berkeley and recent installations in Italy and Las Vegas. They have also been taken down across the world, which is a trademark of Onishi's, that each piece is impermanent in nature. They are not meant to last an eternity, Onishi says.
"I actually don't care so much that the work keep forever. In a stone carving the sculptor carves a sculpture that keeps for a long time, [but] I don't care about that, I think this is part of my art piece," Onishi says.
So, as is common practice for Onishi, Hidden Landscapes–that from Sept.18 through Oct. 27 will fill all 4,000 square feet of CCA–will be dismantled, the plastic sheets removed and the gallery returned to a vessel occupied simply by space and air.
Hidden Landscapes will open with a members preview and artist talk at 5 p.m. on Saturday, Sept. 15, at Coconino Center for the Arts, 2300 N. Fort Valley Rd., an event that will also include a performance by Random Impulse Taiko. The exhibit will open to the public on Sept. 18. An opening reception will take place on Sept. 22 from 6-8 p.m. and is free and open to the public.